KLM FC is a youth soccer club operating under the umbrella of the Vancouver Youth Soccer Association (VYSA), which oversees youth soccer in the city of Vancouver. KLM offers soccer programs for girls and boys from 3-17 and operates in the central Vancouver area. KLM is a non-profit society, organized, administrated and operated mainly by volunteers. The club strives to include all, irrespective of ability to pay.
KLM Mission Statement
KLM Football Club is dedicated to the task of promoting and enhancing the culture of soccer in our community.  We are committed to developing and providing qualified coaches for all KLM players.  By developing and hiring qualified coaches and encouraging them to achieve their maximum potential they in turn will develop their players to their maximum potential. Our efforts and energies are directed to the following objectives:
We strive to develop players at all levels of play by building and improving their skills, confidence, fitness, initiative and a sense of teamwork in a fun filled and safe environment.
We encourage and will assist our players to become referees and to develop their refereeing skills to their maximum potential.
We promote and encourage high standards of sportsmanship and we embrace the principals of "Fair Play" espoused by FIFA.
We strive to inspire and enable our members to achieve excellence in the sport of soccer and in life.
KLM Vision Statement
To ensure that reasonably priced and affordable soccer participation and development programs are available for all age groups, for both girls and boys at the individual participant's level of ability, regardless of their financial means.
KLM History
KLM Football Club has been in existence for over 30 years but youth soccer participation in this community goes back to the 1960's with organizations like Riley Park Soccer, South Slope Soccer, Army and Navy Soccer Club and Bobolink Soccer Club.
Kensington Soccer Association was formed in 1967, Canada's Centennial year with club colour of yellow and black. Little Mountain was formed in 1980 with club colours of red and white. When the amalgamation of the two clubs took place in 1987, the club colours were a combination of these: black, red and white and the name reflected both parent organizations. It was also agreed to keep the Little Mountain logo consisting of the mountain outline with the soccer ball at the base of the mountain encompassed in a circle. That logo was used in one form or another for well over 20 years. In 2007, as part of KLM's 20 year anniversary it was decided to design a new crest for the club. After many meetings and countless designs, a new official design was presented and voted on at the Annual General Meeting. This new KLM crest was designed by one of KLM's U17 boys.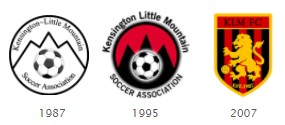 The uniform has changed over the years. Originally solid red (reversible-white inside) tops with black shorts and black socks. This was later changed to the Milan (black and red striped) tops and this proven to be a great choice because no one else in the 4 districts of Vancouver, Burnaby, North Shore or Richmond has similar uniforms so KLM teams never have to change their tops unless they are playing another KLM team.